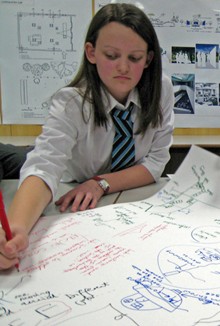 GovEd Communications is continuing to take-forward the ideas, research and designs which emerged from Project Faraday. We have been actively involved in supporting implementation of Faraday proposals in schools and have worked with other schools in the UK and overseas to apply a 'Faraday approach' to developing designs for new facilities and a new pedagogy for science.
The Faraday approach can be applied to other curriculum areas other than Science, or can be used to stimulate a collaborative design process using Science as a stimulus to trigger fresh thinking across all areas of school building design and school transformation. Our methodologies and techniques can be adapted to meet the needs of schools, local authorities or other clients, and can be configured to include a variety of different stakeholder persepctives including teachers, support staff, management teams, pupils, the wider school community, architects and businesses.
Our package of Faraday-based services available includes the following:
Stakeholder and community consultation and engagement

Workshops and CPD/training

Curriculum and accomodation analysis and audit
Design brief audit and creation of 'educational design brief'

ICT review
Feasibility study
Video support

FF&E review
Collaborative architectural design process (in conjunction with our architectural partners Feilden Clegg Bradley Studios)
Further details and examples of these services will appear here in the near future. In the meantime, please contact us for further details about how we can tailor a Faraday-based package for you.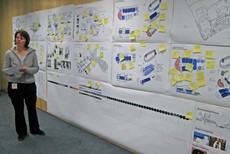 GovEd's 'Faraday Workshops':
The purpose of the 'workshops' (or 'structured brainstorms') is to enable senior staff, science teaching staff, science support staff and pupils, to all engage fully and equally in the design process. It is of great value to the design team (or design advisors) to hear the views and expectations of all of these stakeholders directly, and it is of value to everyone involved to hear each others' perspectives. The practical outcome is that the school management staff and building designers can move forward with the sound knowledge that the 'end users' needs and expectations can be fully reflected.
The 'workshop'-type approach is a technique which we have used successfully in many contexts and can be adapted to different needs in each setting. For an additional perspective on the value of our approach to running workshops, following is a quote from one of the Project Faraday publications:
"The case-study visits injected both inspiration and first-hand experience into the design process and so provoked and tempered in equal measure. The workshops we ran... provided very different, but entirely complementary sources of insight. ...The workshops made significant demands on the creativity of the participants, who rose to the challenge beyond our expectations. The structure of the workshops ensured that as a group we could explore not just what we already believed to be important in science education but also what we hadn't noticed was important. Rather than generate a 'shopping list', the workshops set out to understand how teachers wanted to teach and learners wanted to learn. As much as possible, we dis-engaged that question from the specific equipment and accommodation that might deliver the teaching and learning approaches that emerged. This liberated participants from any preconceptions or expectations about science education, and so freed them to adopt genuinely creative approaches to the question."
For further details about GovEd Faraday Workshops, please contact us.