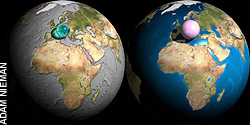 GovEd Communications is committed to supporting projects and organisations focussed on sustainability and combating climate change. We also aim to facilitate dialogue and ideas exchange, and to mobilise networks to address these issues.
We are currently developing a number of projects in this area, but our current focus is on the 'Carbon Quilt' project, in collaboration with Carbon Sense. The project is focussed on enabling easier visualisation of carbon outputs, and the development of practical tools to support informed decision-making for individuals, policy-makers, businesses and communities.
To find out more about the Carbon Quilt, please visit www.carbonquilt.org.
For details of our joint venture Carbon Visuals, please visit www.carbonvisuals.com.
Further information about our work in this area will appear here in the near future. In the meantime, if you would like to know more, please contact us.