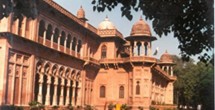 GovEd Communications was appointed by Aitchison College, Lahore to conduct a review and provide recomendations and an 'educational design brief' relating to their proposed new Senior Science Block. The review, analysis and consultation work conducted by GovEd Communications, before, during and following a visit to Aitchison College in August 2008, also included direct consultation exercises with students and teaching staff, partly in the form of 'workshop' sessions.
The report issued to the College at the end ofthis process provided a 'snapshot' of the issues and opportunities relating to the proposed new facilities, in order to inform the next stage of work by the College's architects and our design partners Feilden Clegg Bradley Studios.
As with all of our work involving development of an 'educational design brief' for school buildings and implementing ideas from Project Faraday, the work undertaken for the College was aimed at achieving the following three things:
To ensure that the development of architectural plans for science accommodation is based on full and careful analysis of curriculum considerations, pupil and staff numbers, timetabling considerations, furniture and equipment considerations, and other practical issues that can effect the viability of proposed teaching spaces.
To ensure that the plans for science facilities reflect the needs and expectations of pupils and staff.
To bring to bear on the development of designs the knowledge, ideas and experience we have accumulated through our work on Project Faraday in relation to all aspects of science education, including the use and configuration of a range of different spaces, the use of technology, relationships with outside spaces, serviced furniture, flexible spaces, pedagogic and professional development considerations, and relationships with science in the wider world.
In our view, there is enormous value in ensuring that there is both a fully developed 'Educational Design Brief' as well as a Technical Brief for architects at the outset of a school building project. By working in parallel and coordination with a school's appointed architects, we can be sure that the proposals, which emerge, will be based on rigour and genuine depth of expertise in both educational and technical areas. This will in turn enable the school to develop a brief, which fully reflects its educational values, its vision for the future and its position as an outstanding place of learning.