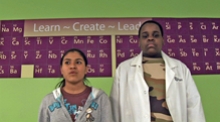 Research and Consultation
We have taken a teacher and learner-centred approach throughout Project Faraday and have conducted extensive consultations and 'co-design' workshops with teachers, pupils and technicians to understand the needs and desires of each of these groups. This research and development process has enabled us to crystallise the needs of future learning in science into four key areas for consideration. (See Project Faraday publications for more details).
This has subsequently informed the detailed exemplar designs of architectural spaces and interactive experiments which we have developed for DCSF, focussing on three principle design themes ('Connected science', 'Integrated spaces', and 'Flexible space/scales of science'). Simplifying these themes has enabled us to communicate our findings with clarity and develop structured approaches to professional development (CPD) to support the new thinking which has emerged through Project Faraday.
In addition, our particular approach to working simultaneously and in an integrated fashion on the architectural spaces, pedagogical considerations and on the use of technologies produced a distinctive and mutually supportive set of ideas and design proposals.
Some of the research outputs from Project Faraday can be viewed at the two links below: