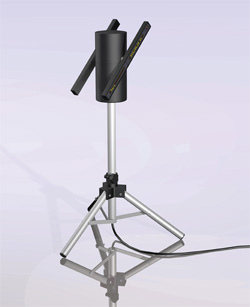 Available at three scales - a desktop computer application, a portable USB version, and a large scale installation - Space Signpost offers a unique, interactive experience for learners and staff to navigate the cosmos 'on their own terms'.
The physical signpost - which turns and points to any selected object in space in its real-time location - provides a greater sense of context and scale when learning about space science and astronomy; while the accompanying interactive software 'Welcome to the Neighbourhood' provides detailed facts, images and links to additional content about each object.
Space Signpost was featured in DCSF's Project Faraday.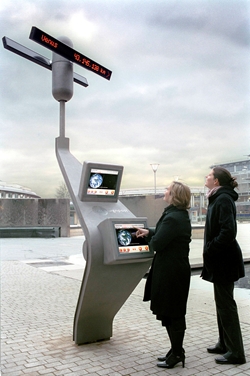 Designed as a sculptural piece for public locations, the full-size Space Signpost (originally developed in partnership with Futurelab) is a beautiful object in its own right, with sweeping lines, substantial materials, and an aspect suitable for many iconic buildings and public locations. The design can be moderately adapted for different settings, but its overall functionality and character remain the same. Its touch screen 3D graphical interface is immediately easy to use, and the pointer at the top
of the installation moves with power and grace as it identifies and locates the real-time position of objects in Space, and also on Earth.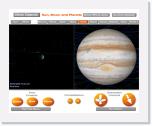 Watch a video produced by Futurelab (one of the original project partners) about the Bristol Space Signpost:
Portable Space Signpost 'teaser' clip:
Additional images and information can also be found at www.spacesignpost.com.
A Portable Space-Signpost is currently featured as part of Futurelab's touring exhibition 'Sparks', at which attendees will be able to try out the technology for themselves. At the touch of a screen, they will be able to instantly interact with the Space Signpost by choosing any object in the Solar System and seeing the Signpost turn to the live position of the object, providing additional information about it as it does.
To order a Space Signpost:

All versions of Space Signpost (full-size, portable USB and software) are now available to purchase.
For further information, please view our pricing and order information pages, or contact us for a demonstration or to discuss your particular requirements.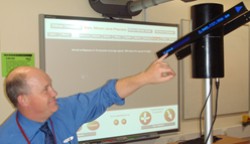 Download a one-page summary about Space Signpost
Download the original concept brochure on the portable Space Signpost
Download the GovEd Technologies BETT Press Release